A CANDLE AND PRAYERS~in remembrance of September 11th, 2001
/c>/c>/>/c>/>/>>/>/c>/>/>>/>/>>/>>/>>/>
/c>/c>/>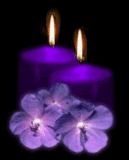 /c>/c>/>
/c>/c>/>/c>/>/>>/>/c>/>/>>/>/>>/>>/>>/>
In remembrance of those who lost their lives on this devastating day, September 11, 2001.
My prayers go out to the families who have lost loved ones and to the survivors of the attacks,to all those that did service, to every single person affected.We were all changed by this event.May we find strength to carry on with hope for peace always in our hearts.
/c>/c>/>
/c>/c>/>
/c>/c>/>/c>/>/>>/>/c>/>/>>/>/>>/>>/>>/>
Although the people living across the ocean surrounding us, I believe, are all our brothers and sisters, why are there constant troubles in this world?
Why do winds and waves rise in the ocean surrounding us?
I only earnestly wish that the wind will soon puff away all the clouds which are hanging over the tops of the mountains.
/c>/c>/>
"Each time a person stands up for an ideal, or acts to improve the lot of others, or strikes out against injustice, he sends forth a tiny ripple of hope, and crossing each other from a million different centers of energy and daring, these ripples build a current that can sweep down the mightiest walls of oppression and resistance."
~ Robert Kennedy ~